Bare Escentuals Beyond Gorgeous
$54
Original Mineral Veil (size: medium)

Satin Ruffle Eyecolor (nude satin) (size: small)

Frills Eyecolor (charcoal moss) (size: small)

Pink Ribbon Blush (sheer raspberry pink) (size: medium)

100% Natural Lipgloss in Icing (sheer playful pink)

Big & Bright Eyeliner in Charbronze (antique brown)

Flawless Definition Volumizing Mascara in Black

Eye Shaping Brush

Flawless Application Face Brush

Keepsake box for storing all of your treasures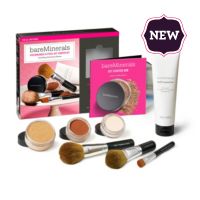 Customizeable Get Started Kit
$60-63
1

SPF 15 Foundation in Original or Matte (size: large)

1

Original Mineral Veil (size: medium), 1 Warmth All-Over Face Color (size: medium), 1 Full Flawless Face Brush, 1 Flawless Application Face Brush, 1 Maximum Coverage Concealer Brush, 1 Get Started DVD, Exclusive Bonus: Well-Cared For Brush Conditioning Shampoo
Buxom Rock Stars Big & Healthy Lip Polish
$28
Gabby Big & Healthy Lip Polish (grapewine shimmer)

Blanche Big & Healthy Lip Polish (shimmering nude)

Julie Big & Healthy Lip Polish (tulip pink)

Tonya Big & Healthy Lip Polish (hot pink sparkle)
Brilliant Gold Beauty Duo
$29.50
Brightening Gold Mineral Veil in Mirrored Compact with custom gold finish

Buff & Go Brush in custom gold finish
Customizable Eye Case w/ Mini Mirror
$39
1

Eyecolor or Liner Shadow

1

Eyecolor or Liner Shadow

1

Eyecolor or Liner Shadow

1

Case for gifting and on-the-go with mirror
High Shine Eyecolor
$16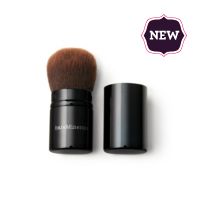 Buff & Go
$22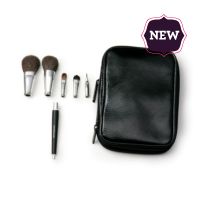 Brush w. Genius
$45
Multi-Tasking Face Brush

Contour Blush Brush

Long Tapered Shadow Brush

Tapered Blending Shadow Brush

Slanted Liner Brush

Magnetic Double-Ended Brush Handle

Stow & Go Case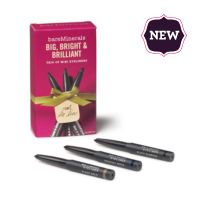 Big, Bright, & Brilliant
$20
Mini Big & Bright Eyeliner in Black Gold (antique gold)

Mini Big & Bright Eyeliner in Black Diamond (black sheen)

Mini Big & Bright Eyeliner in Midnight Moon (navy shimmer)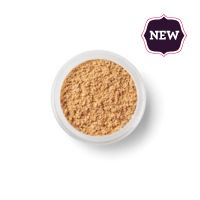 BE Cares Eyecolor Enlightened
$13
Every purchase of Enlightened Eyecolor helps support Bare Escentuals' donation to the Leukemia & Lymphoma Society (LLS).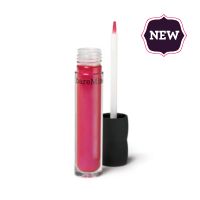 Holidays 100% Natural Lipgloss Color
$15
Birthday Cake & Sprinkles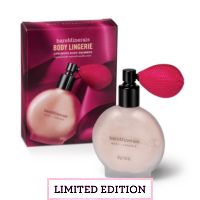 Body Lingerie
$29
Slip into something a little more luxurious. Just like wearing sexy satin under your everyday attire, bareMinerals Body Lingerie Luminous Body Shimmer adds that extra silky touch to your day. Our vintage-inspired Luminous Body Shimmer mists shoulders, arms, d'ecollet'e, legs-anywhere you fancy, adding a subtle, shimmering golden glow to your body. The sublimely sexy, natural vanilla scent completes this perfect finishing touch.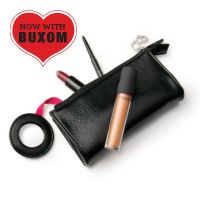 Customizable Lip Case w/ Mini Mirror
$39
1

Case for gifting and on-the-go with mirror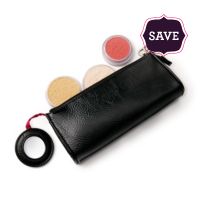 Customizable Face case w/ Mini Mirror
$55
1

SPF 15 Foundation in Original or Matte (size: large)

1

Mineral Veil (size: large)

1

Complexion Product (size: medium)

1

Case for gifting and on-the-go with mirror