I have naturally curly hair and last week with the rain, my hair was not cooperating with me. I purchase the
Ouidad Climate Control Heat & Humidity Gel
. I followed the directions and applied to hair and Whoa frizzes were gone. It kept my frizzes & fly aways controlled and my hair in place. FYI You don't have to have curly hair to try this product. Pricing starts at $22 and up.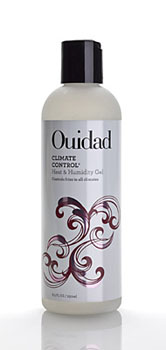 Heat-activated European Wheat Protein has a shielding effect on hair that breathes with the humidity, protecting the hair shaft and preventing hair from expanding. Amino Acids and Vitamin A nourish and hydrate hair, leaving it soft, manageable and full of shine. Water soluble to leave no build-up. Excellent at protecting hair from blow-dryer heat when a straight style is required.
Whether you're heading out on a hot, humid day or prepping for a night out, Climate Control Heat and Humidity Gel by Ouidad blocks out the excess humidity that creates the frizz and flyaways that can shorten the life of your look. Even the most unruly curls are left calm, cool, and collected with a style that will last until you decide to change it.
Info provided by Ouidad